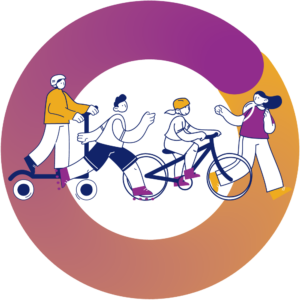 Move your own way: explore your travel options
Instead of always jumping in the car, change the way you think about transport and ask 'what mode of transport does this trip need?'.
Mix 'n' match your modes of travel to meet your family's logistical needs. Travel together or with work mates. Walk or cycle to local destinations. Walk your child to school or cycle your toddler to childcare and then hop on the bus. Lock your bike in a secure storage cage or put it on the front of the bus.
Want to work your way up to cycling? Drive to a 'Park & Ride' or 'Park & Pedal' location and catch a bus or cycle the rest of the way. Or use a scooter to speed up the last kilometre from the bus stop to your destination.
Learn more about planning trips.
Walking is the simplest way to get from A to B; it's great for your health, and –best of all– it's free!
Walking is a great way to get to your local shops or school or between meetings or lunch dates. To get to work further from home, combine walking with public transport and enjoy stretching your legs at each end. Most adults can walk about 1km in 12–20 minutes and take advantage of paths that shortcut through suburbs.
Wear comfy shoes and a hat. Carry your belongings in a backpack, small kids in a stroller, or your shopping in a market trolley. Take the family dog for an outing!
Bikes are fantastic for fitness and a very affordable mode of transport.
Nothing could be simpler and more rewarding than two (or three) wheels, some cogs for mechanical advantage and the power of your own legs, giving you complete independence to move around the city. Cycling is the most efficient form of transport, using less energy than walking, driving or public transport.
Many trips, including travel to local shops, schools or work within a town area, are less than 5km, a distance that can be covered as quickly on a bicycle as in a car and is very achievable for people of ordinary fitness. Many workplaces and shops have bike parking within the building or close to the entrance. For those people who want the benefits of cycling plus a bit of help on a longer commute, electric bikes flatten the hills and shorten travel time, enabling you to turn up to work in good time and sweat-free, dressed for the day.
Share-bike schemes are a great option for getting around in the city centre, or connecting from the end of the light rail or bus trip to your office. See Airbike or ShareABike.
There are loads of variations in pushbikes and e-bikes to suit your cargo or child-carrying needs, comfort and personal style. Cycle with your kids, partner or friends for added motivation and fun!
Canberra's public transport system continues to evolve to meet the changing needs of the city and its residents.
Every Canberra suburb is connected to the public transport network by at least one local bus route, and, perhaps surprisingly, most households are within just 1km (about 10–15 minutes walk) of a bus stop.
"Rapid" bus routes and light rail connect the town centres with few stops and more frequent services, so most people should be able to get to work with one change between buses. Use the time to read, listen to music or a podcast, catch up on emails or social media, do a crossword, knit, write poetry or simply appreciate the passing scenery. You could even strike up a conversation with fellow passengers!
Light rail is powered by renewable electricity and diesel buses are being replaced with electric, so your ride is getting greener.
Buy a MyWay card from a newsagent, register and top up the balance online. You can set and forget with automatic top-up payments. Peak-hour one-way full-trip adult fare is $3.22 – much cheaper than paying for fuel plus car parking! Visit Transport Canberra to plan your journey.
Scooters, skateboards, roller skates, roller blades, unicycles and other wheeled contraptions are all great fun and can be an excellent way to travel short distances relatively quickly.
An easy alternative to a short car trip, they provide micro-mobility to connect to public transport. They lack cargo carrying capacity but offer speed and freedom.
Manual (or push or foot or kick) versions are cheap to buy, light-weight enough to be easily picked up and carried onto a bus or into your workplace, and retain the health and fitness benefits of cycling and walking.
Ride responsibly: although manual scooters, skateboards and the like are not classified as vehicles, riders should obey rules for riding on shared paths. Wear a helmet. Do not ride under the influence of alcohol. Always give way to pedestrians.
An easy alternative to a short car trip, electric scooters, skateboards, segways and one-wheels provide micro-mobility to connect to public transport.
Electric devices make getting up hills quick and effortless compared to manual versions, but are less beneficial for health and fitness because the rider mostly stands still on the platform when in motion. They lack cargo carrying capacity but offer speed and freedom. They can be wheeled onto light rail and buses at the driver's discretion (they may refuse if the bus is full). They have a higher injury rate than manual versions or bicycles.
Ride responsibly: e-scooters, e-skateboards and segways are defined as 'personal mobility devices' and riders must obey rules for riding. Always wear a helmet. Do not ride under the influence of alcohol. Always give way to pedestrians.
If using public share scooters, park them in designated parking zones or adjacent to bike rails, ensure they are standing upright and well clear of footpaths, doorways and driveways.
Rather than owning your own car or driving solo, think about transport as a service: car pool or call up a ride or rent a car when you need one.
Get the family all in the one car or gather some work mates to pool the commute.
Or, the thousands of dollars saved by not owning your own car can easily create a budget for an occasional taxi or ride-share to supplement active travel and public transport. For instance, a 25km taxi ride (eg Belconnen to Tuggeranong) costs roughly $55, or book a share car for a couple of hours to take an elderly parent to an appointment, or an SUV at $600 for a week to go on holiday.
More car sharing options give Canberrans flexibility to rent a car from a fleet or peer-to-peer at hourly or daily rates, while more people per car reduces traffic, required parking spaces and greenhouse gas emissions. Taxi and rental fleets are increasingly moving to hybrid and electric vehicles for a cleaner drive. Fewer cars owned by Canberrans reduces the city's overall ecological footprint.
Find current services in Taxi and ride-share services.
Electric and
hydrogen cars
Switching from a petrol/diesel/gas-fueled car to a car powered by renewable electricity or hydrogen will eliminate the direct greenhouse gas emissions and air pollutants from burning fossil fuels when driving.
However, a "clean" or "green" car is still a car with all of the other costs, safety risks, health issues, resource consumption, and urban and environmental impacts associated with any motor vehicle.
So while it is definitely better for the atmosphere to drive an electric car when you really need a car, it is far better for so many reasons to travel by other means regardless of how the car is powered.
An electric motorcycle is another way to green your ride and save space, but misses the added health benefits of walking or cycling.
Anyone can adopt new travel habits with a bit of preparation.
A barrier or obstacle is anything that prevents you from fully engaging or succeeding in the desired activity. Barriers might be facts (eg "I do not own a bicycle") or beliefs (eg "I would have to wear lycra") or deep-seated fears (eg "I'm afraid of getting lost"). Some of these can be overcome relatively easily with some practical information and an action plan. Others might challenge you to examine your thinking, attitudes or self-image. Whatever your personal barriers are, you are not alone!
Five steps to knock through obstacles
Pull out a pen and a piece of paper or download the Make the Move action planner.
Why change? At the top of the page, write down why you want to change your travel habits. What will motivate you to get active?
Identify your barriers: Down the left side of the page, jot down whatever thoughts come to mind in response to the question "What's stopping me from getting out of my car?". Be honest with yourself!
Assess them: Review your list and to the right of each barrier, note whether it is a fact, belief or fear. Be critical of your "facts" – many of them are likely to be beliefs, eg "I'm too old to cycle" or "I have to drive the kids" is a belief, not an objective fact. Dig a little deeper – what are the facts or beliefs underlying each barrier? For instance, "I'm too old to cycle" might result from your perception of what activities are socially acceptable for someone your age or because you feel physically unfit.
Plan a barrier buster: Browse through the list below of some of the more common barriers to active travel and the suggestions for getting past them. On the right-hand side of your page, write down a practical action or two for how you can tackle each of your barriers, eg "I'm not fit enough" > "Book a health and fitness check with my doctor" or "try an e-bike" or "start with a short trip".
Take action! Pick one action and do it right now! Then do the next one!!
Share your plans with family and friends who will support your efforts and even travel with you. Don't be put off by a bad day or a negative experience; learn from it, adjust your gear or plans or mindset, and give it another go. Almost anyone can walk, cycle or take public transport – get out there, try it, own it!
Five steps to
get moving!