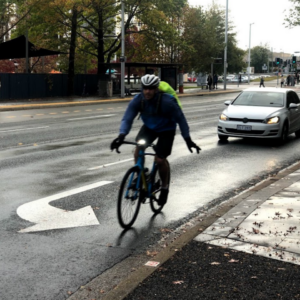 Build your confidence through training, taking safety precautions and getting insurance to cover you for life's mishaps.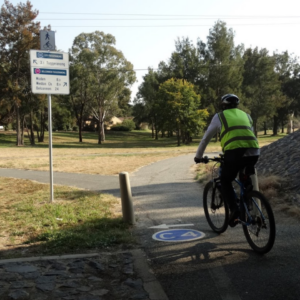 There are many things you can do to stay safe when getting around town.
Did you know cycling has lower injury rates than most other forms of sport, exercise and active recreation? But accidents do happen so here are some suggestions about how to reduce the risks.
Canberra is a very safe city to get around in even after dark, but here are a few suggestions to help avoid mishaps and feel confident. Whether active travel or public transport, plan your trips so that you know where you are going. Follow marked routes to avoid getting lost. Carry a mobile phone. Take a paper map or mobile phone map app. Stick to well-lit paths and bus waiting areas or carry a torch (many phones have a built in flashlight). Find friends, neighbours or colleagues to meet up with along the way. On a bus, sit near the driver if it makes you feel more comfortable.
Listening to music or podcasts can add to the enjoyment of commuting – just ensure that you can still hear what's going on around you and pay extra attention to what you're doing, especially when crossing roads or walking on shared paths.
If you feel threatened or endangered by other road users, call 13 444 for police assistance or 000 (triple zero) in an emergency.
Choose the right size bike or scooter for your needs and set it up properly, including the seat height and angle, lights and reflectors (compulsory), bell, brakes and tyres. Get comfortable with the equipment and making hand signals by practicing in a quiet location or do a learn to ride course with Pedal Power. Keep your bike or scooter well-maintained and batteries sufficiently charged.
Wear a helmet and appropriate clothing and footwear including a high-vis vest with reflective tape. Secure your stuff in a backpack, panniers or basket. If using a mobile phone for navigation, attach it to a bracket on the handlebars. Join Pedal Power or AusCycling to obtain personal accident and public liability (third party) insurance for cyclists.
While cyclists and scooter riders do not require a licence, they are required to obey road rules – read about your responsibilities below.
Ride defensively, that is, take particular care when riding on roads: look behind you frequently, approach intersections and exit lanes with caution, assume you have not been seen and be prepared to avoid cars turning or changing lanes. Ride in designated bike lanes or the centre of the left car lane if there is no bike lane – avoid the far left "door zone" where parked car doors open. Control your speed and ride predictably so that other road and path users can anticipate your movements. Slow down smoothly in plenty of time before turns, curbs, road crossings, and allow a longer braking distance in wet weather. Use gears to adjust your speed and how hard you need to pedal: low gears for going uphill, higher gears for horizontal or downhill.
Do not ride bikes or scooters under the influence of alcohol or drugs. Remain aware of what's happening around you, including the movement of other road or path users, parked cars, pet animals, kangaroos, swooping magpies, and hazards such as curbs, crossings, tight bends, safety barriers, changes of surface, debris, potholes, puddles, sticks and leaves.
Report hazards to Fix My Street and dangerous driving to Crime Stoppers. If you see someone in difficulty, help them out.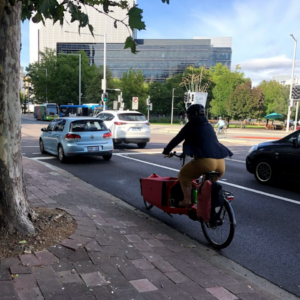 While cyclists and scooter riders do not require a licence, they are required to obey road rules and can be issued with an infringement for failure to comply.
Most of what applies to cars also applies to bicycles and scooters, including stopping at red traffic lights, obeying street signs and giving way to pedestrians. Be aware of how quiet your bike or scooter is and sound your bell when approaching other path users, especially from behind. Be in control at all times and remain alert to what is going on around you.
Riding responsibly and legally is safer and encourages positive attitudes towards riders by other path and road users.
The rules are summarised below. See also ACT Policing's tips for cyclists, e-scooter riders and pedestrians and road rules (see Part E).
Cyclists and scooter riders:
must wear a securely fastened helmet compliant with Australian Standards, as must any passengers (with exceptions for religious headwear)
may ride on shared paths, bike paths, the bicycle side of separated paths and footpaths
can ride across a pedestrian or signalised crossing at maximum speed of 10 km/h, must slow to 10km/h on approach and be prepared to stop, must keep left and give way to pedestrians 
must keep to the left of a footpath or shared path to allow space for others to pass, unless it is impracticable to do so
must give way to pedestrians and slow down when passing them
must have a warning device such as a bell and should sound it when approaching pedestrians or other slower path users the rider intends to overtake
must at night display a flashing or steady white light at the front and red light at the back that are clearly visible for at least 200 metres
must also display a red reflector that is clearly visible for at least 50 meters from the rear of the bicycle and clearly visible
must have at least one effective brake
should ride to the conditions
must not be impaired by alcohol or drugs
must not operate mobile devices except when secured in a mounting and used for navigation.
A bicycle is classed as a vehicle and is subject to some additional rules, ie that a bike rider:
is entitled to use road lanes but must ride in the bicycle lane unless it is impracticable to do so
may cross the intersection if specific bicycle crossing lights are green and traffic is light even if the traffic lights are red or yellow
must be 16 years or older to tow a bicycle trailer, and the person in the trailer must be less than 10 years old and wearing a helmet
may overtake on the left of a vehicle UNLESS the vehicle is turning left 
may ride two abreast with another cyclist, may overtake two other riders cycling abreast, and should move into single file to allow other vehicles to pass safely
must not ride within 2 metres of the rear of a moving motor vehicle for more than 200 metres
may make a hook turn to turn right, obeying traffic lights and giving way to vehicles approaching from the road you are leaving.
A kick scooter or skateboard propelled by human power is classed as a 'wheeled recreational device', whereas an electric scooter or skateboard propelled by an electric motor is deemed a 'personal mobility device'.
Children under the age of 12 can only ride an electric scooter or skateboard if supervised by an adult.
Additional rules are that a scooter rider:
is not allowed on roads unless there is no suitable footpath, then must keep left
is not allowed on pedestrian-only footpaths
must not exceed the speed limit of 15km/h on footpaths and 25 km/h on shared/bike paths
should show courtesy to other path users, and ride more slowly around others
must not carry any passengers.
For peace of mind, it is wise to obtain insurance to cover expenses in the event of an accident. You may have existing insurance that will cover some or all of the following: 
Personal accident insurance covers your medical costs and loss of income if you injure yourself.
Public liability insurance covers other people's costs if you cause an accident. 
Professional indemnity insurance covers you if you provide incorrect advice which results in injury or damage to another person or property.
Workers compensation insurance pays wages and medical expenses for employees if they are injured at work, or on their journey to and from work, or become sick due to their work.
Property insurance covers your bike and equipment in the event of theft or damage
Pedal Power or AusCycling membership includes personal accident and public liability insurance for cyclists (not scooters). Your workplace may cover you for accidents while commuting or travelling for work during the day – it's worth checking your eligibility and exactly what it does and does not cover. If your bicycle is expensive, you may want to provide the serial number and specify its value in your home and contents insurance.
Other factors that may affect an insurance claim include not using a helmet and safety gear (like a high-vis vest and lights), consumption of alcohol or drugs, adherence to road rules, who was at fault, whether your bike was appropriately secured, irresponsible or non-compliant use of bikes (eg non-compliant retrofitting of an electric motor to a pushbike), pre-existing medical conditions.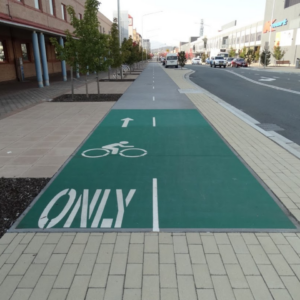 If you've never ridden a bike before or you're not confident, practice in a quiet location or do a learn to ride course with Pedal Power. Ask an experienced friend to do some weekend riding with you to build confidence or join a social riding group.
Ask your employer to provide cycling training for employees to encourage safe riding.
Visit your doctor for a general health check and advice before getting active if you are in doubt about your fitness or have existing health conditions or risk factors.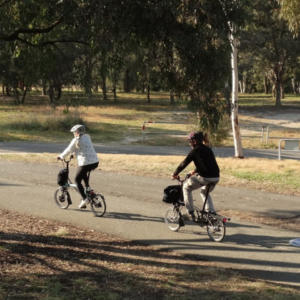 Download the free guide and action planner and make your first move into clean transport