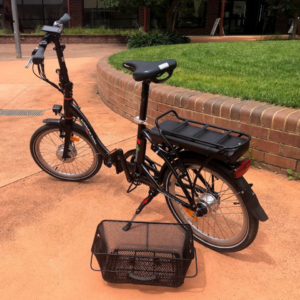 Having the right gear makes traveling comfortable and enjoyable. Choose a bike or scooter and accessories that suit your needs. Remember that you likely already have what you need to get started.
Choose the right commuter bike for comfort, safety and fun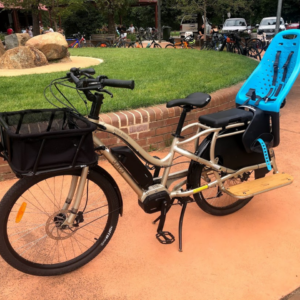 After you've identified your travel needs and planned your trips, you should have a good idea about how you might use a bike, eg to carry children, do long or short trips, lift it onto a bus bike rack, etc. There is an extensive range of bikes to choose from for a variety of specialist purposes eg mountain biking or road racing.
The information below focuses on 'town' or 'city' bikes –both push and electric– for urban commuting.
More about electric bikes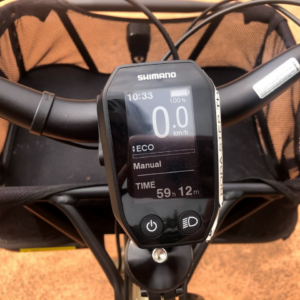 Electric bikes are fairly simple to operate.
Turn on the battery and the control panel, hop on and go. Adjust the power level and manual gears to suit the terrain and the amount of effort you want to put in. Like any digital device, it's worth investing half an hour to read the manual and work through the settings so you understand battery and speed indicators for instance, and know how to reset the time or trip data etc.
Motor-assisted acceleration on an electric bike helps you take off more quickly from stops, zoom along the flat, sail into headwinds and cruise up hills, saving time, effort and – critically for commuting – sweat.
Motor-assisted acceleration on an electric bike helps you take off more quickly from stops, zoom along the flat, sail into headwinds and cruise up hills, saving time, effort and – critically for commuting – sweat. With 3-5 levels of power assist, they are ideal for carrying heavy loads, grocery shopping and children and are a great choice for anyone not fit or mobile enough to use a pushbike. The control panel displays a suite of data such as speed, trip length, battery strength. Most e-bikes have lights powered by the battery.
Electric bikes are more expensive to buy than an equivalent pushbike and can be quite heavy, often in excess of 20kg, making them harder to load on buses or cars, or manoeuvre up and down steps, although having electric power means there is often no need to combine transport modes. Long or wide cargo e-bikes can feel unwieldy until you get used to them, and take more space to turn and store. The battery requires routine charging and repairs may be more complex and costly than a pushbike. If the battery runs flat, e-bikes can be heavy to pedal. Like any expensive bike, e-bikes may be more of a target for thieves. Finally, lithium batteries cause environmental damage [text link] during mining, production and disposal.
Choosing a folding e-bike or basic city e-bike might help reduce the weight concern. Folding bikes can be packed into the boot of a small car or carried onto a bus (at the discretion of the driver) – very handy as "transportable transport".
A good quality lock or off-street parking is useful to deter thieves. Looking after the battery will maximise its lifespan, then ensure it gets sent to a battery recycling centre.
Buying secondhand or retrofitting an electric motor to a suitable pushbike can be a cheaper alternative to a new e-bike, but make sure the frame of the existing bike is sturdy and the motor kit is compliant with Australian regulations.
There are two categories of electric bikes permitted for use as a bicycle in Australia.
"Pedelec" or pedal-electric bikes: the motor is limited to 250 watts. These will not activate unless the pedals are in motion and will cut out if you stop pedalling (eg freewheeling downhill or coming to a stop).
"Motor-assisted pedal-cycles": the motor is limited to 200 watts and activated by a throttle, with pedalling optional (more like a motorbike).
Both types of electric bikes will cut out when the bike exceeds 25km/h. You can still travel faster than that under leg power and the motor will cut back in when the bike slows to below 25km/h. The transition between the electric motor and leg power should be smooth.
A mid-drive motor integrated with the pedal cranks drives the chain or belt and feels more like you have super strength when pedalling. They have greater battery efficiency but are generally more expensive than a hub drive and rarely seen on throttle-driven bikes. A hub motor installed on a front or, more commonly, rear wheel, feels more like the bike is being pushed or pulled by the motor, but is compatible with throttle-driven bikes. Most e-bikes have traditional manual gears like a pushbike in addition to the motor, allowing the bike to be ridden like a pushbike whether the motor is running or not, while others have only electric power levels. There are pros and cons of all these variations: the best way to choose is to try them out and see which you feel most comfortable with.
First-generation e-bikes used nickel-based batteries; current e-bikes mostly use the same, more efficient, lithium technology used in electric cars. Battery capacity is usually 400–500 Watt hours and 11–14 Amps, and lifespan may be anywhere from 400 to 1500 charge cycles, up to several years depending how often you charge it. The charger should have a power plug that fits into a standard Australian 240 Volt wall socket and a connection like any other electronic device that plugs into the battery. Full recharge takes around 5 hours and should be done when the charge falls below 30% and at least once every six weeks.
Distance or range on a full battery depends on many factors, particularly weight. The more you pedal and the lower the power setting, the longer the battery lasts. Lower-end bikes will last 30–60km, high-end bikes up to 120km. Replacement batteries for entry-level bikes cost around $400. High-end e-bikes often incorporate the battery into the frame which looks sleek but can't be detached for charging separately and replacement can cost over $800. Also look for a battery that either locks securely to the bike or can be easily removed to take with you. Make sure you turn off the motor and battery when you stop!
Read more about environmental impacts and recycling of batteries.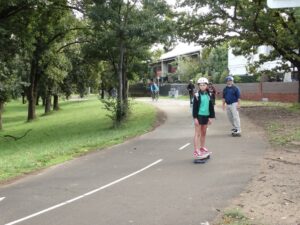 When ridden responsibly, scooters and skateboards can be a fun alternative to a short car trip or a long walk.
Scooters, skateboards, roller skates, roller blades, unicycles and other wheeled contraptions are all great fun and can be an excellent way to travel short distances relatively quickly. An easy alternative to a short car trip, they provide micro-mobility to connect to public transport. They lack cargo carrying capacity but offer speed and freedom.
Download the free guide and action planner and make your first move into clean transport